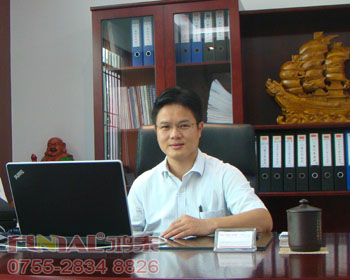 Founder:Zhao Hong Guang
Mr.Zhao Hong Guang was born in Yiyang, Hunan and arrived in Shenzhen in 1999, to start from the basic business set himself goals which is find own world with hard work and agricultural experience younger. After more than four years after sales career ,he has accumulated a variety of experience and contacts, but the desire for own goals was always fel himself spontaneously completed a number of learning programs to achieve him goals for the future with confidence.It is a critical year of 2004 for Mr.Zhao, he saw the opportunity for development of aluminium doors and windows industry, and this idear as his first venture has been brewing for a long time in Mr.Zhao mind, he determined toseize the opportunity, and began operating in aluminium doors and windows custom business in Futian.
Entrepreneurship is one of the greatest difficulties encountered in life for every young person, Mr. Zhao constantly expanded the business scope by hard work, perseverance and unyielding spirit and decisived investment to create Hongtai windows and doors factory after accumulating the pot of gold.With only a short period of two years time,the mumber of factory had two people at he beginning from more than 30 employees when factory started production.But Mr. Zhao believed that had one factory wasn't himself world in Shenzhen.when the factory went well, Mr. Zhao not only didn't enjoy, but saw the trend of the future development of the the doors and windows'market.
After three years of preparation, learning, studies, Mr. Zhao has made a significant development decisions- business transformation. Abandon the low-end aluminium doors and windows operating production of highend aluminum windows and doors products. From the history of Hongtai development, Mr. Zhao always keep a clear thinking and hold the chance before the dawn of the opportunities in managing business which provided a reference example of self-made young people with lofty ideals.
"Not a luxury, because unique..."HongTai always create a comfortable space to relax and high quality of life for you. Focus on aluminium doors and windows for ten years,only for Hongtai brand in 100 years.
-----Mr,Zhao Hong Guang
For more information, please contact us on:
Tel: +86-755-28348826
Fax: +86-755-28226505
E-mail: Lianchuang@windows-china.com

Whatapp:+86 13113010032
Phone number:+86 13113010032
Wechat: suxuan325
Factory Address:Buliding10&15,Asia industrial park GangTou, Bantian Rd., Longgang District, Shenzhen City, Guangdong,China
Zip code: 518119